Welcome to Aircraft Drafting Services
At Aircraft Drafting Services we provide high quality AutoCAD engineering drawings and design engineering services to the Aerospace Industry.
Our core customers, Part 21 Design Organisations, currently utilising our services throughout Europe, receive accurate and timely engineering drawings that meet with both their in-house specifications and the requirements of EASA or the FAA.
With an up-to-date knowledge of EASA and FAA requirements and experience on all Airbus and Boeing aircraft types we can provide detailed accurate drawings for any cabin interior minor modification or Supplemental Type Certificate for your Part 21 Design Organisation.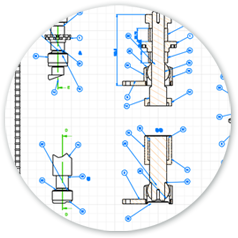 Our team of Design Engineers/Draftsmen have extensive experience in the aviation sector, having previously been employed as Design Engineers with Part 21 Design organisations and aircraft maintenance engineers with Part-66 B1 & B2 licences.
Please feel free to contact us with any queries you may have.
Regards,
Aircraft Drafting Services